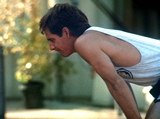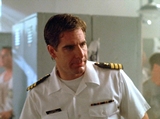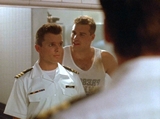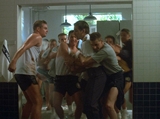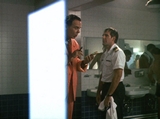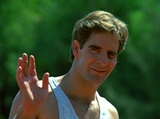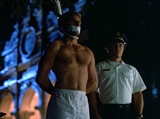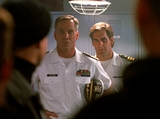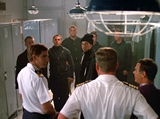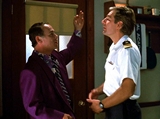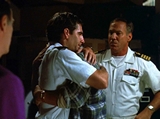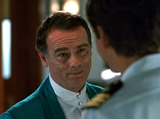 Magazine Article

"Running for Honor"
---
Leap Date:
June 11, 1964
---
Episode Adopted by: Eleiece <aka> Sherdran
Synopsis:
One of the most controversial episodes of the entire series, this episode deals with homosexuality. Sam and Al do not see eye-to-eye on this issue when Sam leaps into a naval cadet who may or not be gay. He is there to prevent another gay cadet from being killed by a gay-bashing group while trying to educate Al that the military's anti-gay laws are wrong. But is the person Sam leaped into really gay? Does it matter?
Place
Leap Date
Project Date
Name of the Person Leaped Into
Songs
Music Artists
Project Trivia
Sam Trivia
Al Trivia
Al's Women
Al's Outfits Worn in the Episode
Miscellaneous Trivia
Kiss with History
Writers
Director
Producers
Crew
Broadcast Date
Guest Stars
Guest Cast Notes
Guests who appeared in other Quantum Leap episodes
Cast members who have passed away
Personal Review
Best Lines
Best Scenes
Say what? (things in the episode that make no sense)
Quotable Quotes
Awards

Place: Prescott College just outside of Lakeside, Michigan


Name of the Leapee: Cadet Commander Thomas "Tommy" H. York


Leap Date/Day: June 11, 1964 / Thursday


Broadcast Date/Day: January 15, 1992 / Wednesday


Songs:
There's only one song in this episode:
"Easier Said Than Done" by The Essex.
The rest was background music.


Music: Velton Ray Bunch


Theme: Mike Post


Writer(s): Robert Harris Duncan


Director: Bob Hulme
Producer(s):

Supervising:
Harker Wade

Co-Executive:
Deborah Pratt and Michael Zinberg

Producer(s):
Jeff Gourson, Tommy Thompson, Chris Ruppenthal and Paul Brown.
Sam Trivia:
He remembered he leaped into Vietnam.
Al Trivia:
He was in charge of tapping the kegs at the party after graduation
from Annapolis.


Miscellaneous Trivia:

The C.H.A.I.N. - Cadets Honoring An Ideal Navy
---
The Stonewall rebellion, which started the gay liberation movement,
took place on June 27, 1969, five years after Sam's leap into Tommy
York's life in 1964.
---
In the garden scene after Karen walks away and Al makes a comment
about her, we hear Sam say, "Come on, Al. She's probably all of
seventeen." However, if you read Scott's lips though, you'll see
that originally he said, "...She's probably all of fifteen."
---
The only scene Al didn't carry a cigar was the scene in Admiral
Spencer's office when he stood behind Sam's chair.
---
Al used the multi-colored 'candy-cube' handlink.
---
This episode was originally slated to feature Sam's leapee as a teenager in high school but due to advertisers threatening to pull sponsorship, NBC basically forced Don Bellisario to change the script to reflect a college age character instead.
Al's Outfits Worn in the Episode:

Dark melon suit (with the cuffs turned back once) with a dark orange
print shirt, black string tie with a silver tie clip, dark-red/orange
belt with gold buckle, and dark red shoes.
---
Goldenrod shirt with multi-colored harlequin sleeves, a dark blue vest
with black back, blue-gray pants, and a lapel pin. Shoes, though not
seen, were probably black.
---
Dark plum jacket and black pants, a purple & white patterned shirt,
a wide, diagonally-striped tie (dark-blue, black & white), black shoes,
lapel pin, and a round-faced watch with black band.
---
Electric blue jacket, black pants and shoes, a white shirt with a
stand-up, button collar.



Sam's Outfits Worn in the Episode:

Black running shorts with Prescott Naval College emblem on left front,
white exercise tank top with college emblem on front left shoulder, white
socks and black running shoes.
---
Cadet uniform: dark-blue trousers, white shirt with shoulder boards
denoting Tommy York's rank (Cadet commander), polished black shoes,
and his dark blue cover (hat) with gold braid and patent leather brim.
---
White boxer shorts.
---
Dark-blue running shorts and tank top with the Prescott Naval College
emblem was emblazoned on the front, and black running shoes.


Regular Cast:
Scott Bakula as Sam Beckett, and Dean Stockwell as Al Calavicci.
Guest Stars:

ANTHONY PALERMO - (Ronnie Chambers):

Film credits - movie/TV movie:

Rollerball (2002)
A Hollywood Story (2001)
Just Friends (1997)
Men Seeking Women (1997)
Disruptor (1996)
Driven (1996)
Just Friends (1996)
Serpent's Lair (1995)
Pink Lightning (1991)

Guest Starring Roles

Poltergeist: The Legacy (1998)
Melrose Place (1996)
Day by Day (1989)

Co Starring Roles

JAG (2002)
Poltergeist: The Legacy (1998)


JOHN FINN - (Admiral Spencer):

A few of Mr. Finn's Movie/TV movie credits include:

The Hunted (2003)
Catch Me If You Can (2002)
Analyze That (2002)
Deadlocked (2000)
True Crime (1999)
Turbulence (1997)
City Hall (1996)
Truman (1995)
Blown Away (1994)
Nowhere To Run (1993)
The Pelican Brief (1993)
Carlito's Way (1993)
Geronimo: An American Legend (1993)
Citizen Cohn (1992)
Cover-Up (1991)
Loose Cannons (1990)
Glory (1989)
The Pope Of Greenwich Village (1984)

Starring Roles (TV):

Cold Case (2003)
EZ Streets (1996)

Guest Starring Roles (TV):

Dawson's Creek (1999 & 2001 & 2003)
Without a Trace (2002)
NYPD Blue (1995 & 1997 & 2001)
The Practice (2000)
The X-Files (1997 & 1999)
Strange World (1999)
Brooklyn South (1998)
Millennium (1997)
Promised Land (1997)
Nash Bridges (1996)
JAG (1996)
Chicago Hope (1994 & 1995)
seaQuest DSV (1994)
Frasier - Tim (1993)
Cheers (1992)
Law & Order (1990)
Miami Vice (1988)
Spenser: For Hire (1987)
The Fall Guy (1982)
The Incredible Hulk (1981)

Co Starring Roles:

Night Visions (2002)
B.J. and the Bear (1979)


JOHN ROSELIUS - (Coach Martz):

Movie Credits:

Con Air 1997
Lost Highway 1997
Devil in a Blue Dress 1995
Guarding Tess 1994
Final Analysis 1992
Ruby 1992
Let It Ride 1989
Brothers-In-Law 1985
Courage 1984
Fear City 1984
Love Streams 1984
Marian Rose White 1981
Borderline 1980
Coast to Coast 1980
The Girl, the Gold Watch and Everything 1980
Flesh and Blood 1979
The Enforcer 1976

Guest Starring Roles:

JAG - (1999 & 2002)
The A-Team (1984)

Co Starring Roles:

JAG (1995)
Amazing Stories (1986)


LISA LAWRENCE - (Karen Spenser):

Film credits:

Son-In-Law (1993)
Rescue Me (1993)
A Reason To Believe (1995)

Starring Roles:

Tribes (1990)
As The World Turns (1996)

Guest Starring Roles besides Quantum Leap:

Murder, She Wrote (1994)


SEAN O'BRYAN - (Phillip Ashcroft)

Film/TV Movie credits:

Abby [TV Series] (2003)
Big Fat Liar (2002)
The Princess Diaries (2001)
Nice Guys Sleep Alone (1999)
Touch of Hope (1999)
I'll Be Home for Christmas (1998)
Phenomenon (1996)
Crimson Tide (1995)
Trapped in Paradise (1994)
Exit to Eden (1994)
Heart and Souls (1993)
Marked for Murder (1993)
Chaplin (1992)
Frankie and Johnny (1991)

Starring Roles:

Abby (2003)
Brother's Keeper (1998)
Pig Sty (1995)


Sean's Guest Starring Roles include:

Felicity (2002)
Grounded for Life (2002)
Roswell (2001)
Becker (2001)
Providence (2001)
Diagnosis Murder (2000)
The King of Queens (2000)
Jack & Jill (1999)
Two Guys and a Girl (1998)
Touched by an Angel (1997)
The Pretender (1996)
Roseanne (1996)
Murder, She Wrote (1992, 1993 & 1995)
Picket Fences (1993)
Northern Exposure (1992)
MacGyver (1991)


Mr. O'Bryan's theatre credits include:

"It's Only a Play" (by Terrence McNally - the play was critically acclaimed)
"The Lisbon Traviata" (by Terrence McNally - also critically acclaimed)

Money and Friends
Picnic
Measure for Measure
27 Wagons Full of Cotton
The Glass Menagerie
Crimes of the Heart
The Gingerbread Lady


JACK PRICE - (Plebe Guard):

Guest Starring Roles:

Blossom (1993)
Quantum Leap (1992)


(These are the only acting credit I could find for this actor.)


MARTIN HANSEN - (Cadet):

Guest Starring Roles:

Quantum Leap - Cadet - Running For Honor - June 11, 1964 (1992)

(This is the only acting credit I could find for this actor.)



BRIAN SELBERT - (Plebe Guard):

Guest Starring Roles:

Quantum Leap - Plebe - Running For Honor - June 11, 1964 (1992)

(This is the only acting credit I could find for this actor.)


BEAU WINDHAM - (Tommy H. York/Mirror):

Film credits:

Panther (1995)
True Rights (1999)

Guest Starring Roles:

Quantum Leap (1992)
Guest Cast Notes:

While getting his career started in New York, John Finn worked
as a limousine driver.
---
Sean is originally from Kentucky.
---
Sean is married to Samantha Follows (sister to Megan Follows -
star of Anne of Green Gables).
---
In 2001, Sean joined the entire Follows family to perform in the
Noel Coward play "Hay Fever" at the Gravenhurst Opera House in
Gravenhurst, Ontario, Canada. Since his wife and her family are
Canadian, Sean was the only American on stage! What's more, his
character was the only American character in the play!
---


Personal Review:

This episode has special meaning for me in a few ways, and the first
and most important was George.

George was my only brother. He was intelligent; as a college senior
he used to substitute for the physics professor on occasion for extra
credit. He was a trained ballet dancer, had a gorgeous tenor voice,
and also taught himself to play piano and guitar. George also had big,
booming, infectious laugh that filled a room when something amused him,
and his ambition was to be an entertainer. He also joined the Navy right
out of high school. And George was gay.

George's sexual preference didn't change the core person he was, didn't
change the core values he learned growing up. Not for a split nanosecond
did it ever color my view of him or lessen by a whit my love for him.
And when he called me in late 1992 to tell me that he'd just learned he
was HIV positive, not even then did it shake or alter how I felt about
my brother. Sadly, my beloved brother died of AIDS related cancer in
March 1994.

The whole point of this review, is that we each have many and varied
facets that combine to make each of us the unique individual we are.
Pigeonholing someone for a single aspect of their life that you don't
agree with may, as you might discover after the fact, makes you the poorer
of the two in the long run.

For me, Sam's response to Al says it all: "Does it matter?"



Best Line(s): Without doubt, they are the two last lines of the episode:

Al: "Well, was Tommy gay or not?"
Sam: "Does it matter?"



Quotable Quotes:

Al: "No. I was in charge of tapping the kegs at the party after
the graduation."
---
Al: "Boy does this remind me of my plebe days. There was no sleep,
no booze, no women. It was hell."
---
Al: "If wishes were broken hearts, everybody would have 'em!"
---
Sam: "Get out! And don't come back till you've joined the twentieth century."
---
Coach Martz: "Oh that's great. If you're my grandmother, that's great."
---
Karen/Al:

Karen: "I don't want to pressure you, it's just that sometimes
I wish you were a little more...aggressive."

Al: "Oh, the times I had this fantasy when I was a teenager."
---
Al: "I think she's ready for...graduate school."
---
Sam: "Change the record. Just change the record!"
---
Philip: "Look at yourself. You're 21 and you're still a virgin.
And it's not because you had too much homework."
---
Coach Martz: "Is this a private club, people? Or can any idiot join it?
---
Al: "So I realized I was wrong. I'm not always right. I was wrong."


Best Scene:

Usually there is one particular scene that I like just a little better than
any other scene, but not this time. This time it's for all the marbles.
From start to finish "Running For Honor" IS 'The Best Scene'.

Now, that being said, one scene that always comes to mind when I
think of RFH is the scene between Sam and Al in Tommy's room just
after Philip was attacked:
------

[Mirror image of Tommy York; Sam speaks]

Sam: "Are you telling me I'm gay, Al?"

Al: "No. I'm saying that Ziggy says there's an 86.3 percent
change that this Tommy York is gay."

Sam: "Well, what about Karen?"

Al: "Who?"

Sam: "The Admiral's daughter. Tommy's dating her."

Al: "Oh, he's dating her? Well that doesn't make any difference.
Gay men were married and had families. That was the perfect
way to hide the truth."

Sam: "So Ziggy can't confirm it?"

Al: "Not totally, no."

Sam: "Okay. I'm gonna need a little bit more proof than Ziggy's
projection. Okay?"

Al: "Okay. Well then maybe you better have a look at this."

[He points to something on Tommy's desk.]

Sam: "What?"

[Sam crosses to desk to look, sees the letter then sits down and reads
the letter aloud. Al slowly walks around behind him as he reads.
Sam finishes reading.]

Sam: "...signed Tommy York. And it's addressed to Admiral Spenser."

Al: "Well?"

Sam: "Well what? This doesn't prove anything."

Al: "Sure it does. Imagine this kid, Tommy York. He's got everything.
Why would he risk it all unless he was having a relationship with
Philip?"

[Sam expression becomes one of controlled annoyance; he crosses his legs.]

Sam: "Have you ever heard of friendship? What?"

[Al does a double-take at Sam's posture.]

Al: "Oh...nuthin'. I just...uh... I don't ever remember seeing you cross
your legs that way before."

[Sam's annoyance changes to controlled, offended disbelief.]

Sam: "What are you saying, Al?"

Al: "Huh? Oh, nothing."

Sam: "Yes, you are!"

Al: "No."

Sam: "Yes, you are! You're saying that the way I cross my legs has
something to do with something!"

Al: "Huh? 'Course not."

Sam: "I can't believe you'd even say something like that."

Al: "Well..."

Sam: "That is so stupid. Let's just drop it, alright?"

Al (almost defensively): "Okay. Okay, I'll drop it. I'll drop it."

Sam: "Just drop it!"

Al: "I'll drop it."

Sam: "Al!"

Al: "I dropped it!"

[Sam calms down.]

Sam: "I'm sure I'm here to help get Philip back into Prescott."

Al: "I doubt that."

Sam: "Why?"

Al: "Because in two days he's found hanging in his print shop."

[Startled, Sam stands to face Al.]

Sam: "The 'Chain'?"

Al: "Ziggy doesn't know yet."

Sam: "Well, I'm gonna need some more information, Al. Um...see if
you can find anything from the police investigation, alright?"

Al: "You got it."

[Al takes out handlink and presses buttons on it to summon the Imaging
Chamber door. Sam crosses the room, his back to Al, his hands on his
hips, thinking. Al glances at Sam, sees how he's standing and ventures
a suggestion.]

Al: "Um...Sam. Maybe... maybe it's better if you don't walk around
with your hands on your hips like that. You know?"

[Sam turned toward Al when he began to speak but hearing what he says
causes his eyes to narrow.]

Sam: "Get out! And don't come back 'til you've joined the twentieth
century. Go on!"