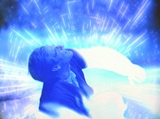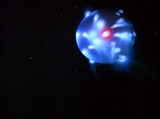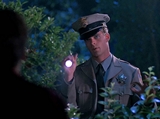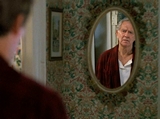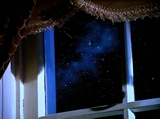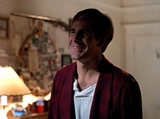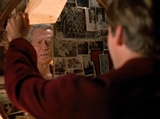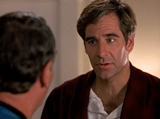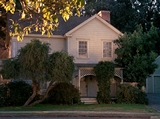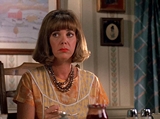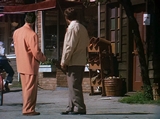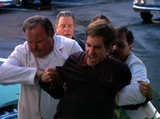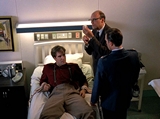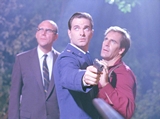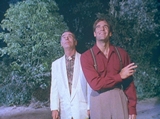 "Star Light, Star Bright"
---
Leap Date:
May 21, 1966
---
Episode Adopted by: MikeKraken
Additional info provided by: Dave McEvoy
Synopsis:
After encountering a UFO, Sam has to convince the parents and grandson of the old man he has leaped into that he is telling the truth before his son commits him to a mental hospital. Meanwhile, he needs to find a way to patch the relationship problems within the family, and a government agency is tracking Sam...and the UFO.
Bonus audio:
Sam discloses personal info,
security clearance code numbers,
and project info!
Place
Leap Date
Project Date
Name of the Person Leaped Into
Songs
Music Artists
Project Trivia
Sam Trivia
Al Trivia
Al's Women
Al's Outfits Worn in the Episode
Miscellaneous Trivia
Kiss with History
Writers
Director
Producers
Crew
Broadcast Date
Guest Stars
Guest Cast Notes
Guests who appeared in other Quantum Leap episodes
Cast members who have passed away
Personal Review
Best Lines
Best Scenes
Say what? (things in the episode that make no sense)
Quotable Quotes
Awards
"Star Light, Star Bright" - May 21, 1966


A flying saucer and a feuding father and son... Is Sam, as Max Stoddard, being given the chance to prove that extra-terrestrials exist, or make sure that Max's grandson Tim reconsiles things with Max's son? Things don't get any easier when two men from the government begin to investigate Max's claims of seeing UFOs.


::Place::
Charlemont, Massachusetts, USA


::Name of the Person Leaped Into::
Maxwell Stoddard, a seventy-nine-year-old UFO chaser
::Songs/Music::

» Background music (by Velton Ray Bunch)

» "All Day and All of the Night" by The Beatles
::Project Trivia::

» Handlink: third version (colourful cubes)

» The current date is May 1, 1999.
::Sam Trivia::

» Sam had a paper route at one time.

» Sam tells Tim not to miss Jimi Hendrix play at Woodstock, indicating that he is a fan of the musician.

» He knows how to play the guitar.

» John Samuel Beckett and Thelma Louise Beckett are the names of his parents.

» Social Security Number: 563-86-9801

» Department of Defense UMBRA Clearance Number: Listen to the bonus sound file above! :)
::Al Trivia::

» Al can't remember the name of his second wife, but refers to her as "the Hungarian one".
::Miscellaneous trivia::

» Max came over from Ireland during the potato famine.

» Al reminds Sam of the psycho-synergizing with Lee Harvey Oswald.

» The Charlemont library burned down in 1968.

» When the government men interview Sam, it's been three nights since Sam leaped in.

» UMBRA is an operative code.

» The UFO is about 15 metres on the long axis, 10 metres on the short.
::Al's Outfits Worn in the Episode::

» First appearance: blue leather and suede jacket; white shirt with black collar and black design on the chest; lit cigar.

» Second through fifth appearances: pink suit coat; pink dress pants; silky shirt with reds-and-white design; glittery pink tie; brownish-red belt; foamy-looking pendant on left breast; cigar.

» Sixth appearance: white suit coat; white dress pants; dark-patterened dress shirt; black string tie with silver buckle; watch with white face.
::Writer::
Richard C. Okie


::Director::
Christopher Hibler


::Producers::
Deborah Pratt, Chas. Floyd Johnson, Harker Wade, Tommy Thompson, Richard C. Okie, Robin Jill Bernheim


::Broadcast Date::
Tuesday, October 27, 1992


::Regular Cast::
Scott Bakula as Sam Beckett
Dean Stockwell as Al Calavicci
::Guest Starring::

Morgan Weisser - Tim Stoddard
H. Richard Greene - Dr. Hardy
Michael L. Maguire - Major Irwin Meadows, U.S. Air Force Intelligence
Anne Lockhart - Mrs. Stoddard
Guy Boyd - John Stoddard
:with:
Joshua Cox - Officer Milardi
Douglas Stark - Max Stoddard
::Guest Cast Notes (interesting things you've discovered about those who appeared in the episode)::

» Anne Lockhart appeared in small roles, often uncredited in films such as "E.T.: The Extra-Terrestrial," "City Slickers," and "Risky Business." She most recently used her voice talents in the animated film "Chicken Little."

» Joshua Cox played Lt. David Corwin on "Babylon 5" (and in two of the B5 telefilms).
::Personal Review::
I think this is a pretty good episode, with a nice mix of drama and comedy. We feel sorry for poor old Max Stoddard, and similarily, Sam, both of whom have indeed seen unidentified-flying objects, and nobody will believe them, not Max's family, and not even Al. At the same time, we can understand everyone being skeptical at the claims of seeing a flying saucer from another world.

This spells double trouble when Sam talks to Al, and all of Max's family see him speaking to thin air, convincing them that Max is losing his sanity. Sam's secondary objective, to prevent Tim from over-dosing on heroin, is simple enough to overlook, but was also rectified easily.

All in all, it's one of those episodes we can briefly forget, but it's certainly an interesting one, especially with Max Stoddard going with the aliens. In addition, we learn a few interesting things about Sam, such as his parents' full names, his social security number, and his UMBRA clearance number. Both of these aspects have been used in some of the many theories behind the evil leaper project.


::Best Line::
» Sam: "I'm so unbelievably lucky t-to be on the cutting edge of solving one of mankind's oldest riddles, and now, now, I have the chance to solve a second one in the same lifetime. Nobody gets that chance. Nobody."


::Best Scene::
I think the best scene, for humour anyway, is when Sam is playing the electric guitar, and we see the mirror image of Max Stoddard playing in Tim's bedroom. Other than that, the ending is kinda cool.
::Say What?::

» "Oh boy, oh boy!" - Sam says this at the beginning of the episode when the flashing lights are shining around him. However, if you watch his mouth, he was saying something else. (What that is, I can't tell.)

» "The real Mr. Stoddard" - When Al first appears to Sam, he tells him that Max Stoddard, back in the Waiting Room, thinks that he's on his way to Venus, he doesn't say "Mr. Stoddard", he says something else, probably "Max" instead of "Mister".
Apparently, Mr. Stoddard was 18 when he left Ireland to escape the potato famine. The Potato Famine ended before 1865. (There's no definite ending but let's just say 1865). If he was 18 in 1865, then in 1966 he's be 119!
::Quotable Quotes::
» Al: "Ziggy says your memory is Swiss-cheesed with the real Mr. Stoddard, but who, by the way, right now is in the Waiting Room, and he thinks he's on the way to Venus."
Sam: "He must be terrified."
Al: "Au contraire, he's in Heaven. He keeps fingering our clothes, he wants to know what we eat... you know what he says to me? He says, he says, 'Take me to your leader,' so I turn him over to Gooshie, told him that he was the King of the Planet Halitosis."

» Sam: "Is Ziggy sure that that's why I'm here?"
Al: "Seventy-eight-point-one percent."
Sam: "What are the odds of me being here to prove the existence of extra-terrestrials?"
Al: "Seventy-three-point-three percent. I win!"
Sam: "Yeah, but that's very close."
Al: "This isn't horseshoes, Sam."

» Sam: "Don't call 'im an old cout."
Al: "Okay, he's a young cout."

» Al: "I changed my mind! You are crazy!"

» Al: "Dr. Jekyll and Major Hyde, uh, listen, try to find them, you slimebuckets."


---

::Crew::
Theme by - Mike Post
Musical Score by - Velton Ray Bunch
Co-Executive Producers - Deborah Pratt, Chas. Floyd Johnson
Supervising Producers - Harker Wade, Tommy Thompson, Richard C. Okie
Producer - Robin Jill Bernheim
Written by - Richard C. Okie
Directed by - Christopher Hibler
Executive Producer - Donald P. Bellisario

(flashing credits, "Quantum Leap" theme from season five)
Associate Producers - Juile Bellisario, Scott Ejercito
Co-ordinating Producer - David Bellisario

Director of Photography - Michael Watkins A.S.C.
Production Designer - Cameron Birnie
Edited by - Jon Koslowsky A.C.E.

Unit Production Manager - Ron Grow
First Assistant Director - Bob Mayberry
Second Assistant Director - Brian Faul

Casting by - Ellen Lubin Sanitsky C.S.A.
Set Decorator - Robert L. Zilliox
Costume Designer - Jean-Pierre Dorleac
Costume Supervisors - David Rawley, Katina Kerr

Art Director - Ellen Dambros-Williams
Sound Mixer - Barry D. Thomas
Stunt Co-ordinator - Diamond Farnsworth
Make-Up - Jeremy Swan
Hairstylist - Andrea Mizushima
Fashion Concepts - Jean-Pierre Dorleac
Sound Editor - Greg Schorer
Music Editor - Bruce Frazier
Panaflex® Camera and Lenses by PANAVISION®

This motion picture is protected under laws of the United States and other countries. Unauthorized duplication, distribution, or exhibition may result in in civil liability and criminal prosocution.

Country of first publication: United States of Amercia. Foresbrook Enterprises Inc. is the author of this motion picture for purposes of the Berne Convention and all national laws giving effect thereto.

Copyright © 1992 by Universal City Studios, Inc. All rights reserved.

The charcters and events depicted in this photoplay are fictitious, and any similarity to actual persons, living or dead, is purely coincidental.

(second Universal Television logo at end)