Making A Quantum Leap

By Scott Nance
Click on the thumbnails to read the pages. These pages are meant to be a sample of some of the more interesting excerpts from this book. Not all pages are included here.


Cover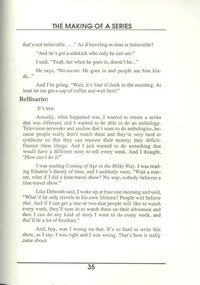 A conversation held at the University of California at Los Angeles on November 26, 1990.

Producers Chris Ruppenthal, Deborah Pratt, and Tommy Thompson, writer Beverly Bridges, art director Cameron Birnie, and consultant Rich Whiteside attended a panel to discuss the creative process behind the series. It took place at Universal Hilton on March 1, 1992.

Also on March 1, 1992 at the Universal Hilton Hotel during the annual Quantum Leap convention, Donald P. Bellisario, Scott Bakula, and Dean Stockwell held a panel discussion.

The pages above are from a discussion panel at the Museum of Broadcasting Festival at the LA County Museum of Art on March 17, 1990.

Back Cover