"Last Dance Before an Execution"
---
Leap Date:
May 12, 1971
---
Episode adopted by: Rebekka E.
Additional info provided by: Brian Greene


Synopsis:
As he leaps in, Sam finds himself strapped in an electric chair for a murder his host may not have committed. But as he is granted a sudden 48-hour stay of execution, he must quickly dig through legal papers and barriers to find the truth before he goes back to the chair again.
TV Guide Synopsis
Place
Leap Date
Name of the Person Leaped Into
Project Trivia
Sam Trivia
Al Trivia
Al's Outfits Worn in the Episode
Miscellaneous Trivia
Writers
Director
Producers
Crew
Broadcast Date
Guest Stars
Guest Cast Notes
Personal Review
Best Lines
Best Scenes
Say What?
Quotable Quotes

Production # 66423
TV Guide Synopsis:
Sam leaps onto death row, where his life depends upon learning the truth about the murder that put him there. Tearsa: Jenny Gago. Moody: James Sloyan. Raul: Julio Oscar Mechoso. Ripley: Christopher Allport. Tia: Irene Olga Lopez. Sam: Scott Bakula.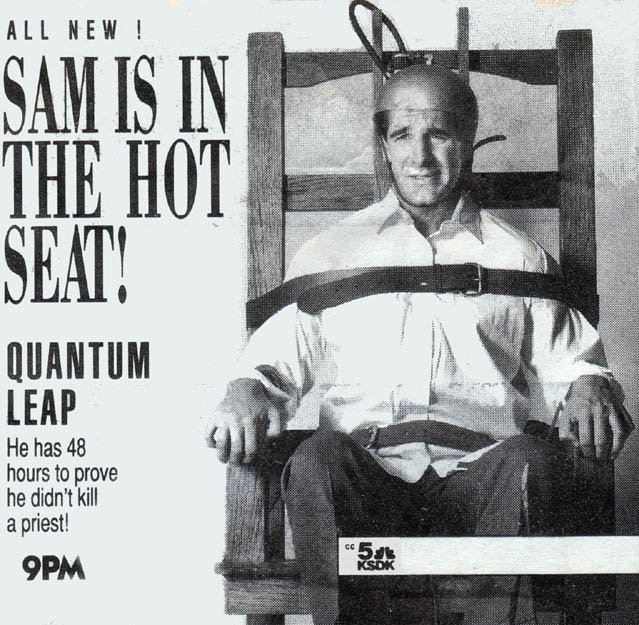 Place:
Tallahassee, Florida
Name of the Person Leaped Into:
Jesus Ortega
Leap Date:
May 12, 1971
Broadcast Date:
May 1, 1991 (Wednesday)
Project Trivia:
It is not always easy to find Sam after he leaps.
The handlink can be converted so that it can detect a lead bullet in a hologram scenario.
Sam Trivia:
Sam remembers Dr. Beeks.
He says "Oh, God" instead of "Oh, boy" in this episode due to the circumstances of his leap-in.
Sam once again tells someone (Tearsa) he is not who they think he is.
Al Trivia:
Once again, a child can see Al. He uses this to communicate with Tearsa and help Sam uncover evidence.
Al's Outfits Worn in the Episode:
Al's first outfit is a ruby, silk, striped, circle shirt with a black rhinestone vest and black rhinestone pants.
The second outfit is blue jeans a purple and gold leather jacket, and a salmon colored shirt.
Miscellaneous Trivia:
Al appears in the episode eight times. The imaging chamber door opens two times. Sam looks in the mirror once.
Regular Cast:
Scott Bakula
Dean Stockwell
Guest Stars:
Jenny Gago as Tearsa Margerita Lorrea
Julio Oscar Mechoso as Raul Casta
Christopher Allport as Alan Ripley
James Sloyan as Theodore Wallace Moody
Leonard C. Lightfoot as Officer Little
Jack Jozefson as Officer Hudson
Michael Holden as Herb Stein
Krista Muscare as Maria
Charles Woolf as Father Raftery
Irene Olga Lopez as Tia
A.J. Freeman as Bart Manners
Wendy Jill Gordon as Reporter
Andrew Almador as Reporter
Harry Fleer as Older Man in Jail
Neil Barton as Black man in Jail
Stephen Domingas as Jesus Ortega
Guest Cast Notes:
Julio Oscar Mechoso plays Joaquin on the WB show Greetings from Tuscon and Martin on Coach.
Jenny Gago played Ms. Anaya on The Agency.
Christopher Allport played Dominic Webb on Felicity and Jesse Atkinson on Dynasty.
Writers:
Teleplay:
Deborah Pratt
Story:
Bill Bigelow
Donald P. Bellisario
Deborah Pratt
Director:
Michael Watkins
Producers:
Chris Ruppenthal
Best Line:
"Are you going to dance before your execution, Jesus? Oh, it's an old prison saying, that a man on his final walk to the chair, the stinch of fear chokes him and he panics. Struggling in the arms of his captor for one more moment of freedom. Some people say it looks like a dance. The last dance before death. Romantic, don't you think?"
Best Scene:
The best scene is when Al is in the church looking for the bullet and he talks to the little girl. He has the little girl help the "angel" tell Tearsa where to find the bullet.
Personal Review:
I really like this one, because Sam almost dies and doesn't "put right what once went wrong" until the very end! This is one of my favorite episodes.
Say What?
The clock on the wall in the first scene stays at 7:00 the entire scene.
The headline on the autopsy report reads, "Description of gunshot wound perforating the head" but the picture shows wounds to the stomach and left chest area.
Sam can hear Al through the telephone?
Raul had to have known what happened in all this.
You can see the light pen Dean Stockwell is holding under the handlink when he is looking for the bullet fairly clearly.
Quotable Quotes:
"Just try to think of someplace far away."
"You can't live with 2000 volts of electricity running through your body."
"It's hard to be loyal to the devil."
"To make right, what the times have made wrong."
It's not like you're lost in a mall, you're lost in time!
-- Al, "Last Dance Before an Execution"

I never knew there were lawyers with morals.
-- Al, "Last Dance Before an Execution"

What have you got, an angel on retainer?
-- Tearsa, "Last Dance Before an Execution"

Are you an angel?
-- the little girl in the church, to Al, "Last Dance Before an Execution"

I sure hope Al's your guardian angel.
-- guard, "Last Dance Before an Execution"

Where the hell have you been? I almost died in the electric chair.
Sam, it's not always so easy to find you... it's not like you're lost in a mall - you're lost in time.
-- Sam and Al, "Last Dance Before An Execution"

You can't just dump a bucket of water over his head and say 'Hey, hey get up, you're not really dead, you're just 25 years in the future.'!
-- Al, "Last Dance Before An Execution"

If I'd had an attorney like that when I was in court, I'd still be in court!
-- Al, "Last Dance Before An Execution"
Al: Sam, you're going to die on May 14th. That's in two days.
Sam: I know that Al! Why?
Al: Why? Well, probably because you can't live with two thousand volts of electricity going through your body! "Last Dance Before An Execution"