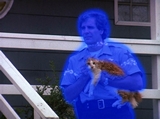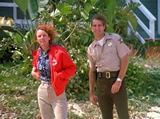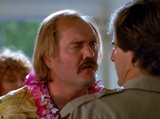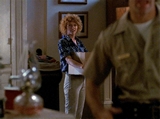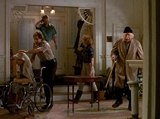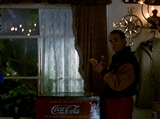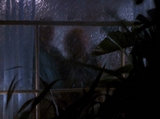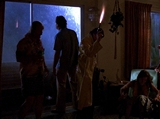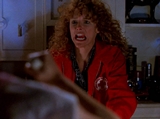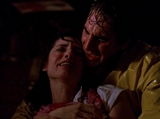 "Hurricane"
---
Leap Date:
August 17, 1969
---
Episode Adopted by: Eleiece <aka> Sherdran
Synopsis:
As Hurricane Camille hits the Gulf Coast in 1969, Sam is faced with the difficult choice of either saving the members of a hurricane party or his girlfriend. Or can he do both without losing his own life?
Place
Leap Date
Project Date
Name of the Person Leaped Into
Songs
Music Artists
Project Trivia
Sam Trivia
Al Trivia
Al's Women
Al's Outfits Worn in the Episode
Miscellaneous Trivia
Kiss with History
Writers
Director
Producers
Crew
Broadcast Date
Guest Stars
Guest Cast Notes
Guests who appeared in other Quantum Leap episodes
Cast members who have passed away
Personal Review
Best Lines
Best Scenes
Say what? (things in the episode that make no sense)
Quotable Quotes
Awards

Leap Location: Jackson Point, Mississippi

Name of the Person Leaped Into: Deputy Sheriff Archie Necaise

Leap Date/Day: August 17, 1969/Sunday

Original Broadcast Date/Day: October 2, 1991/Wednesday


Music: Velton Ray Bunch
General background music, and one song:
"It's A Beautiful Morning" by The Rascals


Theme: Mike Post


Sam Trivia:
He didn't remember Hurricane Camille, but he did
remember experiencing tornadoes while growing up
in Indiana, none of which prepared him for an
encounter with a hurricane.


Al Trivia:
Al remembers and recounts to Sam a bit about the
destruction and deaths caused by Hurricane Camille.


Miscellaneous Trivia / Kiss with History:
Hurricane Camille, the 2nd strongest hurricane of the
20th century, was declared a hurricane (meaning it had
sustained wind speeds of 74 m.p.h.) on Friday, August
15, 1969. By the time it smashed into the Mississippi
Gulf Coast at Pass Christian, Mississippi 2 days later
on Sunday, August 17th, it had sustained winds of 190
m.p.h. with gusts in the 210 - 220 m.p.h. range. It also
had the 2nd lowest barometric pressure ever recorded [909
millibars (26.85)]. Raindrops hit with the force of
bullets, and waves off the Gulf Coast crested between
twenty-two and twenty-eight feet above normal tide range.

---

Camille was only the 2nd hurricane on record to reach
Category 5 at the time of landfall, as well as being
the 2nd most intense hurricane at the time of landfall.
The 1935 Florida Keys Hurricane was the first Category
hurricane as well as the strongest hurricane to hit the
United States coastline this century.

----

Al told Sam that over 360 people were killed. In the
research I've done, the figure that came up consistently
was 256.

---

The hurricane party depicted in "Hurricane" was a near
mirror image of an actual hurricane party that took place
in the Richelieu Apartments, in Pass Christian, Mississippi
during Hurricane Camille.

The Richelieu Apartments faced the Gulf of Mexico and was
less than 250 feet away from the surf on the beach. In
reality, it was the sheriff trying to get the people to
leave. However, unlike Sam, he wasn't able to convince
those people leave. Instead of taking the sheriff
seriously, the people at that party were amused when he
took down all their names for their next of kin. Then,
at 10:15 p.m. on August 17, 1969 the front wall of the
storm came ashore. The Richelieu Apartments were totally
destroyed; all that remained were the foundation and the
shell of the in-ground swimming pool. Of the approximately
24 people at that hurricane party, 20 were killed. If you
want to see 'before and after Camille' pictures of the
Richelieu Apartments, follow this link:

http://sciencepolicy.colorado.edu/pielke/camille/gallery.html

-----

In "Hurricane" Al told Sam that, "...a three story high wall
of water came over the sea wall and flattened everything in
its path."... That 3-story wall of water would have been
approximately 30 feet high.

-----

In the scene where Al tells Sam that in the original history
Cissy was last seen leaving Unabelle's with Joe Deever, on the
wall behind him is a large brass compass rose. The compass rose
has appeared on (sea) charts and maps since the 1300's. The
term "rose" comes from the figure's compass points resembling
the petals of the well-known flower. Originally, this device
was used to indicate the directions of the winds. For that reason
alone, I'd say that made that compass rose on the wall one of the
most, if not the most, apropos props in this particular episode.
Talk about winds to measure!

----

The voice of the sheriff's office dispatcher was that of
W. K. Stratton who made more appearances (actual or voice only)
than any other guest star during the entire run of Quantum Leap.

-----

In this episode Al carried a cigar most of the time, and he used
the multi-colored 'candy-cube' handlink.


Al's Outfits Worn in the Episode:
Red trousers, dark-brown shirt, black leather jacket with dark
yellow sleeves and what looks like (to me) a silvery coin lapel
on left front shoulder of jacket. He also wore dark shoes, a
black-banded watch on his left wrist, and he carried a cigar.


Sam's Outfits Worn in the Episode:
Deputy sheriff's uniform: A light-tan, short-sleeved shirt with
Sheriff's Department emblems on each sleeve; white tee shirt,
dark-brown trousers. He also wore a badge pinned over the left
breast pocket and a name plate pinned to the right breast pocket;
a black belt with a square, silver belt buckle, an expandable-banded
silver watch on his left wrist, and a gun belt, complete with side arm.
After the storm hit, Sam also wore a below-knee length rain slicker.


Writer: Chris Ruppenthal


Director: Michael Watkins


Producers:
Supervising Producer: Harker Wade

Co-Executive Producers: Deborah Pratt and Michael Zinberg

Producers: Chris Ruppenthal, Paul Brown, Jeff Gourson, and Tommy Thompson.


Regular Cast: Scott Bakula as Sam Beckett, Dean Stockwell as Al Calavicci, and Deborah Pratt as Narrator and Ziggy's voice.


Guest Stars:

MARILYN JONES - (Cissy Davis):

Film credits:

On The Block (1990)
The Men's Club (1986)
The Scenic Route (1978)
Support Your Local Sheriff (1969)

Starring Roles:

King's Crossing (1982)
Secrets of Midland Heights (1980)

Guest Starring Roles:

Murder, She Wrote (1994)
Shades of L.A. (1990)
Murder, She Wrote (1988 & 1989)
Monsters (1988)
Jake and the Fatman - (1987)
The Golden Girls (1986)
Moonlighting (1986)
MacGyver (1986)
St. Elsewhere (1986)
The Twilight Zone (1986)
Tales from the Darkside (1985)
V (1985)
Magnum, P.I. (1984)
Hill Street Blues (1983)
Remington Steele (1983)
Lou Grant (1980)
M*A*S*H (1979)

Co Starring Roles:

Paradise (1988)


TRACY KOLIS - (Lisa):

Starring Roles:

Days of Our Lives (1989-1990)
One Life to Live (1986)
All My Children (1985-1986)
As The World Turns (1984)

Guest Starring Roles:

Popular (1999)
Early Edition (1999)
Something So Right (1998)
Clueless (1998)
NYPD Blue (1997)
Coach (1997)
Silk Stalkings (1997)
Ink (1996)
Partners (1996)
Mad About You (1995)
Seinfeld (1994)
The Nanny (1994)
Delta (1992)
Seinfeld (1991)
The Equalizer (1988)
Leg Work (1987)
Tales from the Darkside (1986)

Movie/Mini-Series/Special Roles:

1989 - Dark Holiday (TV Movie)
1992 - A Murderous Affair: The Carolyn Warmus Story (TV Movie)


MARJORIE LOVETT - (Unabelle):

Film credits:

What Planet Are You From? (2000)
Apt Pupil (1998)
Psycho (1998)
The Fan (1996)
The Birdcage (1996)
Stuart Saves His Family (1995)
Clear And Present Danger (1994)
Mr. Jones (1993)
Tootsie (1982)

Guest Starring Roles:

The Practice (2003)
American Dreams (2002)
Family Law (2002)
ER (2002)
That '80s Show - (2002)
Any Day Now -(2000)
Love & Money (1999)
Payne (1999)
Providence (1999)
Alright Already (1997)
The Practice (1997)
The X-Files (1997)
Murphy Brown (1993)
Knots Landing (1993)

The Antagonists (1991)
Working it Out (1990)
Kate & Allie (1986)

Co Starring Roles:

Will & Grace (1999)
7th Heaven (1998)


RICHARD GROVE - (Mark [Mr. Lejeune]):

Film credits:

Wish Upon A Star (1997)
Money Train (1995)
Street Knight (1993)
Army of Darkness (1993)
Scanner Cop (1994)
Point Break (1991)

Guest Starring Roles:

ER - Unknown (1997)
Sabrina, the Teenage Witch(1997)
Lois & Clark: The New Adventures of Superman (1996)
The Outer Limits (1995)
Babylon 5 (1994)
Space Rangers (1993)
In the Heat of the Night (1992)
Eerie, Indiana (1991)
Knots Landing (1991)
L.A. Law (1991)
Shannon's Deal (1991)
Jake and the Fatman(1990)
The Trials of Rosie O'Neill (1990)
Hardball (1990)


JAMES MORRISON - (Joe Deever):

Starring Roles:

Space: Above and Beyond (1995)
General Hospital (1991)

Guest Starring Roles:

The West Wing (2003)
JAG (2002)
Freedom (2000)
The X-Files (2000)
Diagnosis Murder - (1998)
Prey - Lewis (1998)
Brooklyn South (1997)
Millennium - (1996)
Frasier - (1994)
Monsters (1989)
Automan (1984)


BILL ERWIN - (Mr. Deever, Ma' Maw's husband &
Joe Deever's grandfather):

Some of Mr. Erwin's film credits include:

Boycott (2002)
A Crack in the Floor (2001)
Forces of Nature (1999)
Chairman of the Board (1998)
The Color of Evening (1995)
Dennis the Menace (1993)
Night of the Warrior (1991)
Home Alone (1990)
She's Having A Baby (1988)
Planes, Trains and Automobiles (1987)
Somewhere in Time (1980)
The Christine Jorgensen Story (1970)
Under the Yum Yum Tree (1963)
Cry Baby Killer (1958)


Some (the key word) of Mr. Erwin's Guest Starring Roles include:

So Little Time (2002)
The West Wing (2001)
Just Shoot Me (2001)
The Drew Carey Show (1997)
Suddenly Susan (1997)
Living Single (1995)
Lois & Clark: The New Adventures of Superman (1994)
The John Larroquette Show (1993)
Seinfeld (1993)
The Golden Girls (1992)
Knots Landing (1991)
Growing Pains (1991)
Star Trek: The Next Generation (1990)
Moonlighting (1989)
Married ... with Children (1988)
Punky Brewster (1987)
Highway to Heaven (1986)
Falcon Crest (1984)
Voyagers! (1983)
Dallas (1982)
The Dukes of Hazzard (1981)
The Invaders (1967)
The Fugitive (1965, 1966 & 1967)
Kraft Suspense Theatre (1964)
Gunsmoke (1961, 1964, 1967, 1968, 1969, 1970, 1972, 1973, 1974)
Ben Casey (1962, 1963, 1964)
My Three Sons (1962, 1965)
Perry Mason (1961)
Lassie (1960)
Johnny Ringo (1959)
Sea Hunt (1958)
Alfred Hitchcock Presents (1956)

Co Starring Roles:

My World and Welcome to It (1969)
Mannix (1969)
Ben Casey (1965)
Burke's Law (1963)
Wagon Train (1959)


STEPHANIE SHROYER - (Joe Deever's sister):

Guest Starring Roles:

Down the Shore (1993)
Perfect Strangers - (1990)
My Two Dads (1990)
Knots Landing (1989)
thirtysomething (1987)
My Sister Sam (1987)
Jake and the Fatman (1987)
Moonlighting (1987)


BARBARA TOWNSEND - (Ma' Maw):

Acting Appearances:

Starring Roles:

AfterMASH (1983)

Guest Starring Roles:

Murder, She Wrote (1993)
Northern Exposure (1993)
Star Trek: The Next Generation (1990)
Mama's Family (1990)
Murder, She Wrote (1989)
Mr. Belvedere (1986)
Highway to Heaven (1985)
Knight Rider (1985)
Otherworld (1985)
Little House on the Prairie (1983)
Alfred Hitchcock Presents (1957)
The Chevrolet Tele-Theatre (1949)

Co Starring Roles:

The Streets of San Francisco (1977)


BOB HAMILTON - (Archie Necaise/mirror image):

This is the only acting credit I could find for this actor.



Guest Cast Notes:

---

In his career, some of the awards Bill Erwin has won include an Emmy
nomination in 1993 (Guest Star in a Comedy Series - "Seinfeld"); a
Los Angeles Drama Critics Circle Award (Outstanding Leading Role
- "Old Friends," at the Actors Forum), four Drama-Logue awards,
and the Gilmor Brown Award for Career Achievement.

---

Bill Erwin's first film was "You're In the Army Now," with Phil Silvers
and shortly thereafter he entered the Army!

---

Mr. Erwin served as a Captain in the Army Air Force in World War II.

---

Tracy Kolis (Lisa) has worked in four of the longest running and most
popular soap operas: Days of Our Lives, One Life to Live, All My Children,
and As The World Turns.

---

James Morrison began his acting career as a clown and wire-walker
for the Carson and Barnes Wild Animal Circus.

---

On television, James appeared as McQueen on twenty-two episodes
of Space: Above and Beyond.

---

Mr. Morrison has also 'appeared' in the BBC radio production of Julius
Caesar, and in "Ruby McCollum" and "Rainmaker", radio dramas for
National Public Radio.

---

James Morrison is a published writer. One of his books, "Fog Slow
To Clear", is a book of poetry, prose, and monologues written between
1982 and 1999

---

Jim has also written and published several plays, one of which is
"Idle Wheels".

---

James practices and teaches yoga classes and workshops as his
schedule permits.



Cast members who have passed away (as of the date the synopsis was written):

Barbara Townsend, age 88 died of ovarian cancer on January 29, 2002.



Personal Review:
I've always liked 'Hurricane'; it's so much like life.

Storms, hurricanes, if you will, are going to blow up in our lives,
often times stirred up by things or situations beyond our control.
But in life, as in this episode, there is one constant that not even
a hurricane or storm of life can destroy or wash away. Love.

I'm not talking about hearts and flowers, or romantic music and
dancing in the moonlight, though I enjoy all of that. No, I'm
talking about real love, love that has its roots put down deep
in trust and faith in the one you love. And believe me, I know
from personal experience, that real love doesn't need years and
years to grow. For Joe Deever's grandparents love blossomed and
began to grow in the space of two weeks. But no matter when it
first blooms, whether it's hours, weeks, months or years, real
love will grow into something strong enough to anchor you through
the little squalls as well as the storms and hurricanes that life
is going to bring your way, and they will come.

Your storms may not be anything like the ones I have weathered, nor
be anything like the ones waiting yet for me to get through. But
real love will get you through those storms.

And when you have survived the storm and it's passed over, and the
sun has come out again, that love will still be there. Even when
you're left standing in the middle of total destruction and ruination,
it's that love, that belief and trust in that man or woman standing
beside you, that will help you start over again and go forward to
face whatever the future may hold.



Best Line(s):
Cissy: "Do you marry someone after only a couple of weeks?"

Sam: "If it's the right someone, I'd marry them after a couple of hours."



Quotable Quotes:
Sam (monologue):
"With each passing minute the hurricane grew closer and closer.
It seemed like Nature herself was punishing the land for some
unknown transgression. I just hoped I wasn't going to be
punished with it."

---

Cissy: "Oh my. If we get up any earlier to do it, we might as
well not go to sleep."

---

Al: "That's the shingles. The wind must be flicking 'em off
the roof like potato chips."

---

Mr. Lejeune: "I had to give up to the weather and start grilling
them inside."

Sam: "You'll be grilling them under water if you don't leave here soon."

---

Sam: "Able to leap tall buildings in a single bound...move mountains
...right wrongs...travel through time... grow ten feet tall,
and run forever."

---

Al: "I can never figure out when life is short, how we always
find time to argue. You'd think that we'd look at the good
things around us."

---

Al: "Her? Who her?"

---

Al: "Don't worry. He's the original Boy Scout."

---

Cissy: "Next to Beaufus, you're the male I love most."
Al: "How do you feel about holograms?"

---

Cissy: "He never even touched me when we were going out together."
Al: "That shoots that theory to hell."

---

Sam: "It's never too late, not if you want something bad enough."

---


Best Scene(s): First:

The scene when Cissy leads Sam away from the older couple and the others:

------

Cissy: "Can you believe that? They got married after only two weeks.
Do you marry someone after only two weeks?"

Sam: "If it's the right someone, I'd marry them after a couple of hours."

[The look between them grows and they kiss.]

[Al pops in quietly behind Sam; he has an impish expression as he looks at
Sam and Cissy kissing. He coughs. No response. He coughs again, harder, then waits. His impish expression becomes even more so when the kiss ends.]

Cissy: "Nice." [She walks away.]

Al: "Nice? I'll bet it was nice."

[Sam's expression becomes annoyed at Al's comment. He turns to face Al.]

Sam: "You should see a doctor about that cough."

Al: "What cough?"

[Sam's eyes narrow slightly.]

Sam: "What have you got for me, Al?"

Al: "Well, I hate to interrupt you're hanky-panky here...."

Sam: "What have you got for me, Al?"


******
And, the other scene is:
******

[Sam has just come charging to Cissy's rescue while she's talking to
Joe Deever, who is gripping her arms.]
---
Cissy: "You looked like you were gonna..."

Sam, fumbling: "I know. I know. I...I just thought..."

[Cissy laughs as she takes Sam by the hand and leads him to the closet
to get their jackets.]

Cissy: "I don't believe you did that. My knight in shining...khaki.
Charging to the rescue."

[She steps into the closet and reaches for her jacket. Sam steps up
to the open doorway.]

Sam: "Look... I'm sorry. I over reacted a little bit. I...uh...."

[Al moves around so he can see both Sam and Cissy's faces then makes a
roguish comment as Cissy puts her jacket on.]

Al: "You know sometimes knights would get rewards from the damsels
when they helped them in a rescue."

Cissy: "I like seeing you jealous. [She reaches out and pulls Sam
into the closet.]

Al: "I think you're gonna get a reward."

Cissy: "It was sweet." [She pulls Sam into an embrace. They kiss.]

Al: "Sweet."

[He angles to get a better view.]

Al: "Yeah, but Sam, I don't think in the closet there...uh.... Sam?"

[Sam pushes the door shut. Al gives a sort of 'okay' shrug and waits.
While he waits, the camera pans to the other guests then back to Al at
the closet door.]

Al: "Isn't it gonna get a little hot in there?"