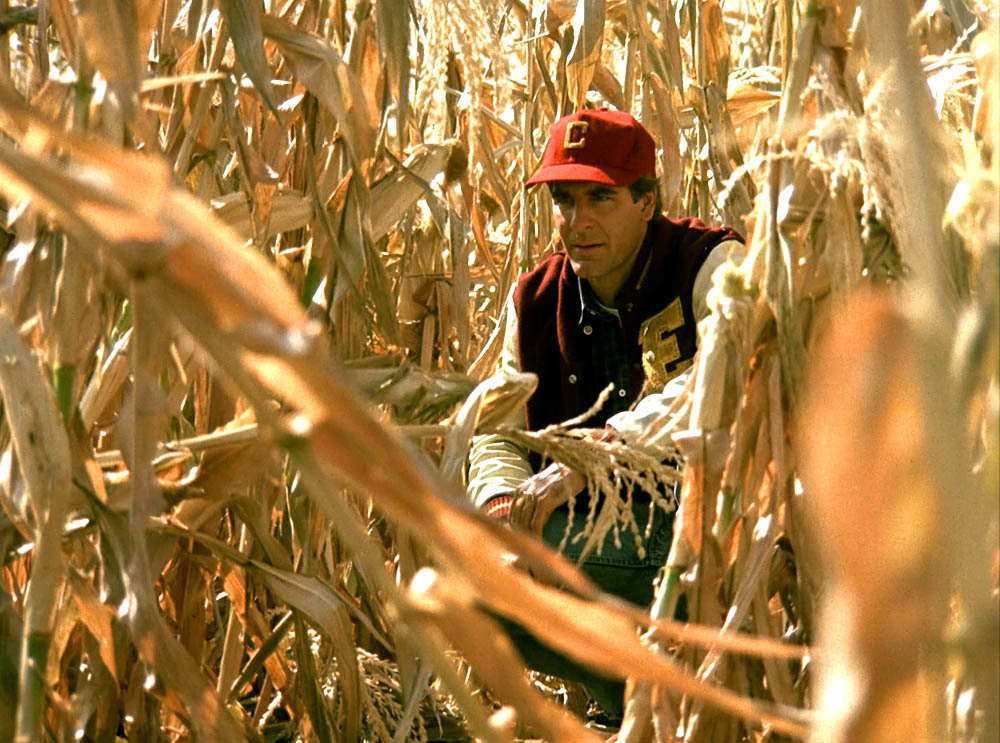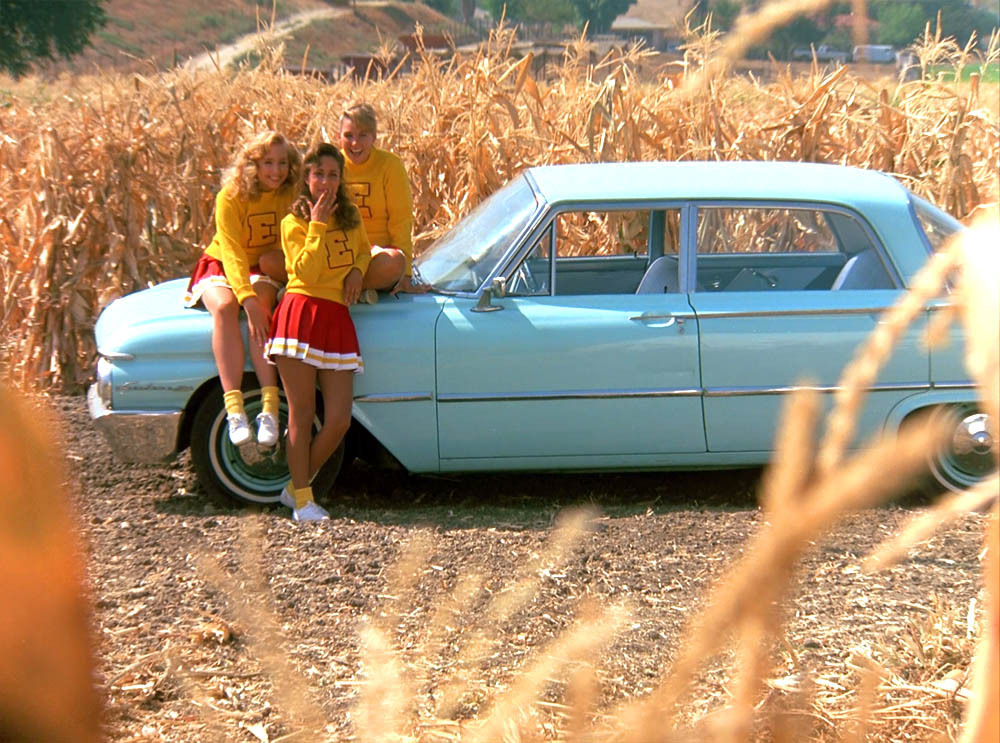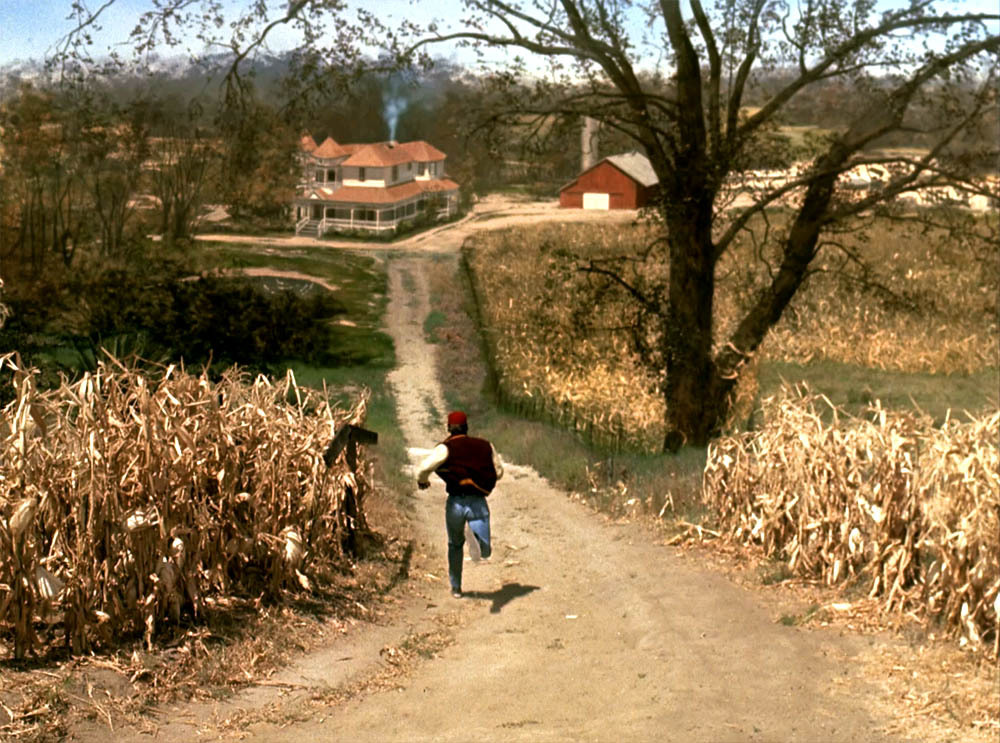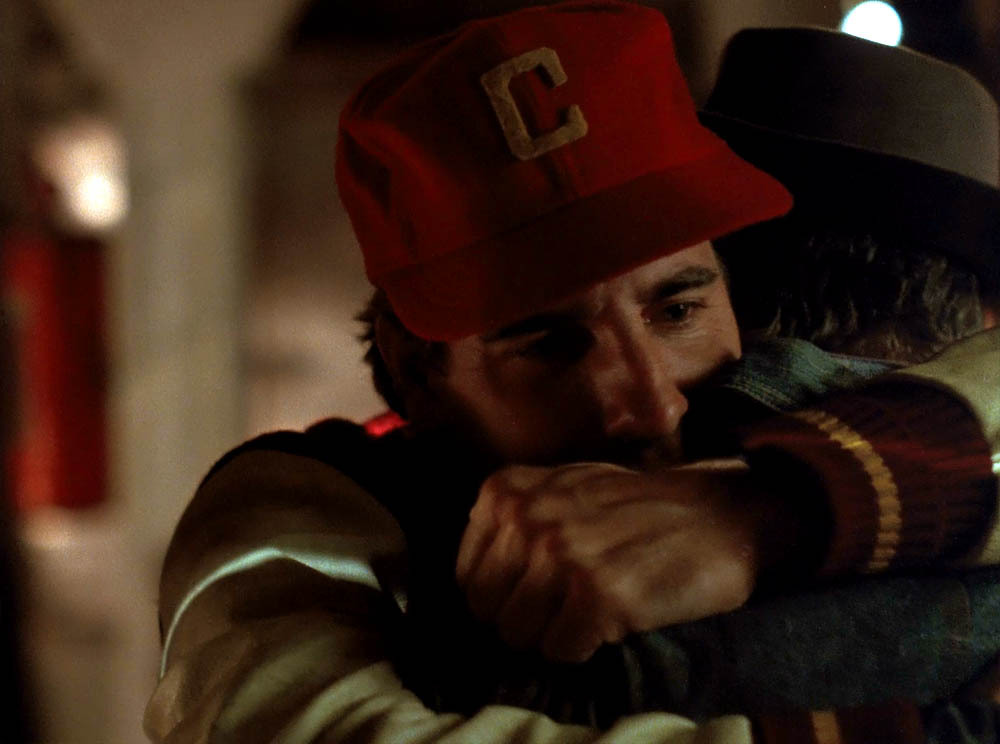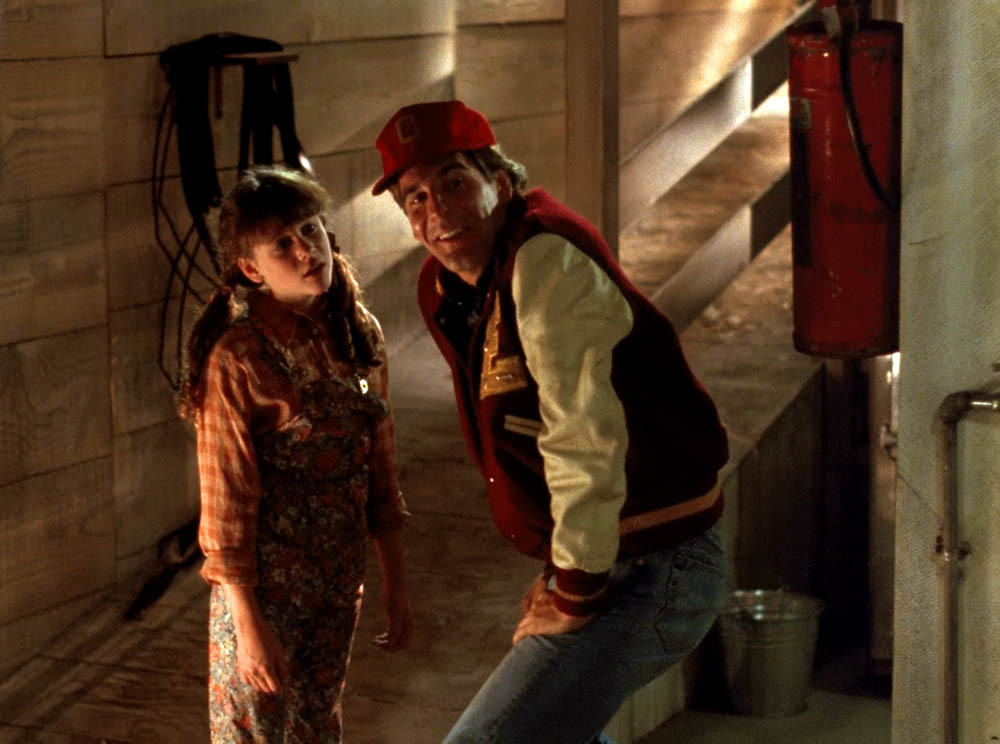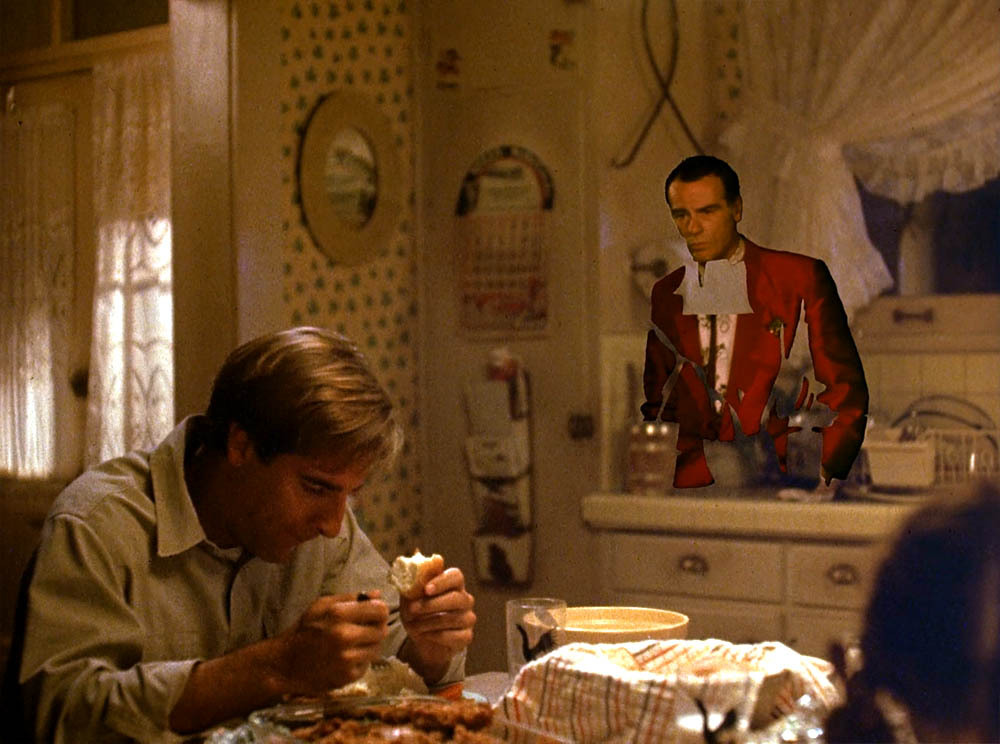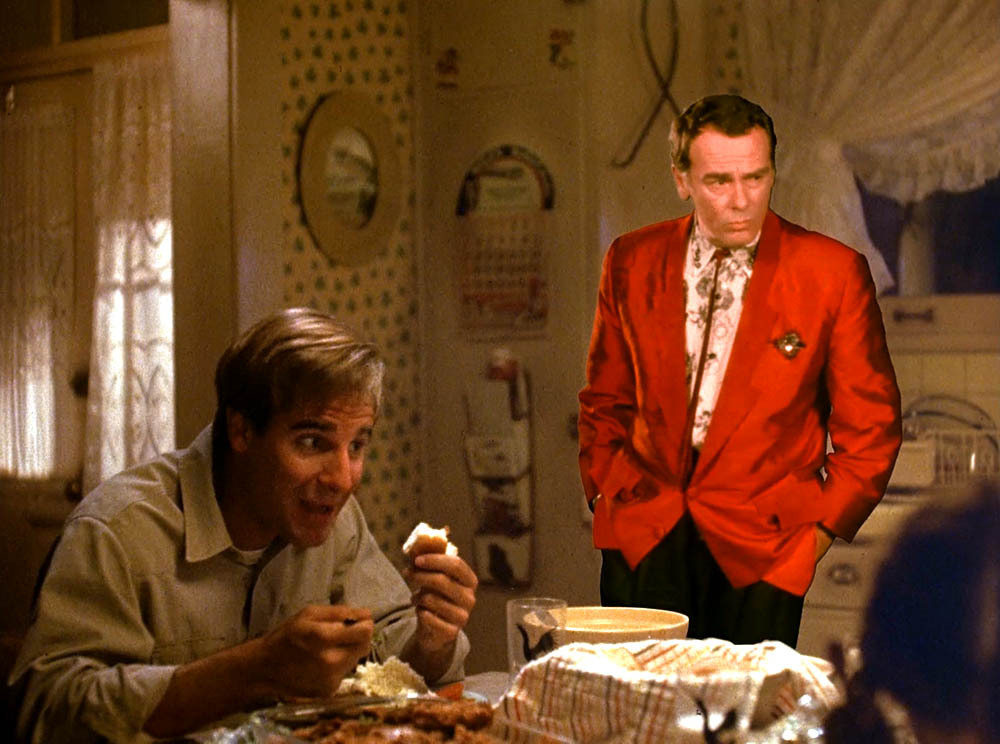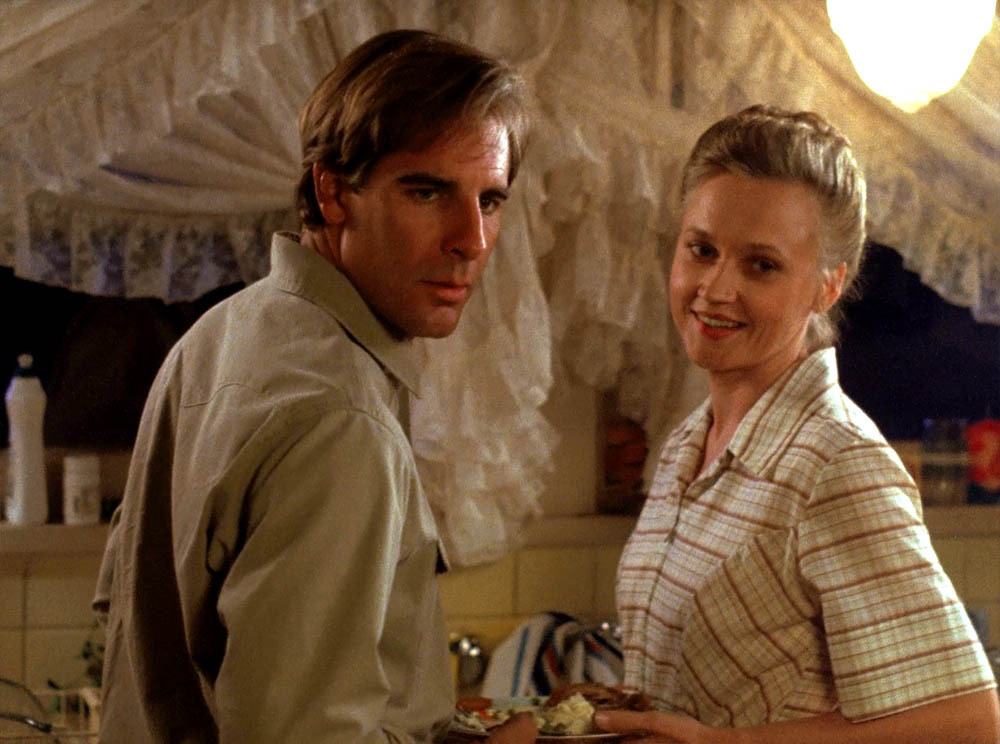 "The Leap Home, Part I"
---
Leap Date:
November 25, 1969
---
Episode Adopted by: Eleiece <aka> Sherdran
Synopsis:
This time Sam leaps into... himself! Well, himself as a teenager back in Elk Ridge, Indiana on the family farm. Al tells him he is there to win a basketball game that was a turning point in many people's lives, but Sam wants to take the opportunity to prevent his sister from marrying an abusive alcoholic, his father from dying from a heart attack, and his brother from getting killed in Vietnam. This is Part I of a 2-part episode.
Place
Leap Date
Project Date
Name of the Person Leaped Into
Songs
Music Artists
Project Trivia
Sam Trivia
Al Trivia
Al's Women
Al's Outfits Worn in the Episode
Miscellaneous Trivia
Kiss with History
Writers
Director
Producers
Crew
Broadcast Date
Guest Stars
Guest Cast Notes
Guests who appeared in other Quantum Leap episodes
Cast members who have passed away
Personal Review
Best Lines
Best Scenes
Say what? (things in the episode that make no sense)
Quotable Quotes
Awards
Script
Place: Elk Ridge, Indiana

Leap Date/Day: November 25, 1969/Tuesday

Original Airdate/Day: September 28, 1990/Friday

Name of the Person Sam Leaped Into: Himself at age 16.

Songs: "Imagine" by John Lennon.

Music:
The beautifully poignant (during the Thanksgiving dinner scene), sometimes driving (during the game against Bentleyville) background music by Velton Ray Bunch.

Theme: by Mike Post

Sam Trivia:
He remembers that Tom was All-State in basketball (when he was 18). He also remembers & blames himself for causing his team to lose this particular game to Bentleyville in the original history.


Miscellaneous Trivia:
This episode won an Emmy for makeup, and boy did the Makeup team [Jeremy Swan, Douglas D. Kelly Gerald Quist, and Michael Mills deserve it! Even now when I watch the TLH-P1, I still have to look very closely at 'John's' face to convince myself that it's really Scott under all that makeup and, of course, it is!

---

In the game scene, Al mentioned Dennis Hopper in the basketball-based movie 'Hoosiers'. Dennis Hopper is a real-life friend of Dean Stockwell.

---

Michael Watkins (director of photography) won his 2nd consecutive Emmy for both parts of 'The Leap Home').

---

Al carried a cigar in all but 2 scenes of this episode; both of those scenes were the ones shot in the gym.

---

Sam's jersey number was "11".

---

John Beckett smoked Lucky Strikes ('Luckies'). (A bit of trivia about this brand of cigarettes is something I remember from my own childhood; there was a TV commercial about them. The man in the commercial would hold up a pack of Luckies and say, "L.S.M. F.T," pause, and then finish by defining what the initials meant, saying, "Lucky Strike Means Fine Tobacco." Like I said, just a bit of trivia from my own past.)



Al's Outfits Worn in the Episode:
1st outfit (in the kitchen scene/supper): Black trousers, red jacket, white & black patterned shirt, black string tie, black lapel pin on left breast pocket, red shoes.

2nd outfit (in the gym at practice): Bright blue shirt, black & white paisley vest with black back, diagonally striped, 2-tone blue tie, white trousers and belt. His shoes were probably white, or possibly blue to match the shirt.

3rd outfit (on the porch then in the cornfield): White leisure suit, dark brown print shirt, a sort of reddish-burnt orange tie and a lapel pin. Shoes were probably black or possibly he wore his gold shoes.

4th outfit (in the backyard with Sam and Tom): Darkish blue trousers with (I think) tiny white flecks on them (only got a close glimpse of them), a red, black & white print shirt, his silver jacket and silver shoes.

5th outfit (the game scene): Camel colored trousers and belt, a light cocoa brown shirt with a gold lining showing in his rolled up sleeves, a shiny gold tie with horizontal dark stripes, tan shoes (I think), and a silver watch on his left wrist.



Scott's Outfits Worn in the Episode:
As Sam as a boy:

1st outfit (the leap-in): Blue jeans, dark blue plaid shirt, white undershirt, dark red & white high school letter jacket with a big yellow "E" on the left front, a red ball cap with a yellow "C", a black belt, white socks and black & white high-top sneakers.

2nd outfit (at the supper table): Blue jeans, gray shirt, white undershirt, white socks and black & white high-top sneakers. In the barn scene, he swapped the sneakers for almost knee-high rubber work boots.

3rd outfit (in the kitchen/breakfast): Jeans, red & black plaid shirt, socks and sneakers.

4th outfit (in the gym at practice): (Sweaty) red 'muscle' shirt, gray gym shorts, white socks and black & white high-top sneakers.

5th outfit (hunting with Tom): Jeans, black & gray plaid shirt, white undershirt, brown jacket, dark gray knit hat, and black & white high-top sneakers.

6th outfit (on the porch and then in the cornfield with Al): Blue jeans, white undershirt, red & black plaid shirt, a dark green pullover sweater, and black & white high-top sneakers.

7th outfit (Thanksgiving dinner): Dark suit with a pin-stripe dress shirt, black tie. His shoes were probably black.

8th outfit (shooting hoops with Tom after dinner): Jeans, white sweatshirt with a gray neckline, and white socks with black & white high-top sneakers.

9th outfit (the game): Basketball jersey and shorts (red with yellow trim) and white socks and black & white high-top sneakers.

--

Scott's outfits worn as John Beckett:

1st outfit (in the barn): Denim overalls, blue plaid flannel shirt, denim jacket, heavy black work shoes, a black/maybe dark gray fedora, and a wedding ring.

2nd outfit (at the supper table): Denim overalls, a wide-plaid blue, gray & black flannel shirt. Probably the same heavy black work shoes; and, the wedding ring.

3rd outfit (at breakfast): Gray flannel shirt, white tee shirt, denim overalls, and heavy black work shoes.

4th outfit (Thanksgiving dinner): Gray wool suit, black trousers, a pin-striped dress shirt, a dark green with some sort of vague pattern on it, and, probably, black dress shoes.

5th outfit (at the game): Black pants, white shirt, a red with white polka dots tie, a black belt and, probably, black shoes.



Regular Cast:
Scott Bakula as Sam Beckett, and Dean Stockwell as Al Calavicci



Guest Stars:
Scott Bakula (John Beckett, Sam's father): Do I really need to tell you all about the fabulously talented and creative Mr. Bakula? .... *g* ... That's what I thought.


Caroline Kava (Thelma Beckett):

Starring Roles:

Ivan the Terrible (1976)

Guest Starring Roles:

Third Watch (2001)
100 Centre Street (2001)
The Practice (2000)
Dawson's Creek (1998)
Law & Order (1996)
The X-Files (1995)
Star Trek: The Next Generation (1992)
Law & Order (1991)
The Equalizer (1986 & 1989)
Max Headroom (1987)

Film Credits:

Snow Falling on Cedars (1999)
Four Days in September (1997)
Cross of Fire (1989)
Little Nikita (1988)
Body of Evidence (1988)
Internal Affairs (1988)
Act of Vengeance (1986)
Nobody's Child (1986)
Year of the Dragon (1985)
Heaven's Gate (1981)

Playwriting credits:

The Early Girl
Constance & The Musician

Ms. Kava's writing/directing credits:

Polio Water, (1995)
Number One, (1998)



DAVID NEWSOM (Tom Beckett):

Starring Roles:

Talk to Me (2000)
House Rules (1998)
Rose Hill (1997) (TV)
Sweet Dreams (1996) (TV)
Boys (1996)
New Nightmare... aka A Nightmare On Elm Street 7 (1994)
Trouble Shooters: Trapped Beneath the Earth (1993) (TV)
Homefront (1991-1992) (TV)

Guest Starring Roles besides Q.L:

Judging Amy (1999)
Godzilla: The Series - voice (1998 -1999)
Will & Grace (1999)
Suddenly Susan (1998)
Fantasy Island (1998)
Touched by an Angel (1996)
Sisters" (1995)
Chicago Hope (1994)
Melrose Place (1994 -1995)
Murder, She Wrote (1992 & 1994)
China Beach (1989& 1990)



Olivia Burnette (Katie Beckett):

Starring Roles:

Almost Home (1993)
The Torkelsons (1991)

Guest Starring Roles:

JAG (1998)
Wings (1991)
Charles in Charge (1990)
Designing Women (1988)
Our House (1986)
Riptide (1985)

Co Starring Roles

Charles in Charge - Melanie Colfax - Fair Exchange (1990)

Here are a few of Olivia's Movie/Mini-Series/Special credits:

The Ballad of Lucy Whipple (2001) (TV)
Children of the Corn V: Fields of Terror (1998)
The Thorn Birds: The Missing Years (TV) (1996)
The Quick and the Dead (1995)
The Gift of Love (TV) (1994)
Willing to Kill: The Texas Cheerleader Story (TV) (1992)
A Murderous Affair: The Carolyn Warmus Story (TV) (1992)
Backfield in Motion (TV) (1991)
Casey's Gift: For Love of a Child (TV) (1990)
A Stoning in Fulham County (TV) (1988)
Planes, Trains & Automobiles (1987)

Movie Credits (behind the camera):

Mountain Cry (2000)- Associate Producer



Mik Scriba (Coach Donnelly):

Film credits:

City Of Angels (1998)
The Negotiator (1998)
Wild Wild West (1999)
The Last Seduction (1994)
Gladiator (1992)
Mo' Money (1992)
In the Deep Woods (1992)
True Identity (1991)
Ambition (1991)
The Package (1989)

Episodic TV appearances:

ER (2001)
The Crusade (1999)
Married...With Children (1997)
Silk Stalkings (1992)
Seinfeld (1992)



Hannah Cutrona (Mary Lou - the brunette cheerleader in the opening sequence):

Film/TV film credits:

Sister Kate (1989) (TV)
Dance 'Til Dawn (1988) (TV)
Carly Mills (1986) (TV)
The Journey of Natty Gann (1985)
Generation (1985) (TV)

TV guest appearances:

Silk Stalkings (1992)
Dinosaurs (1991) (voice)
My Two Dads (1987)
Charles in Charge (1985)
Family Ties (1983)



Niles Brewster (Dr. Berger):

Film credits:

Casual Sex? (1998)
Feds (1988)
In the Mood (1987)
You Talkin' to Me? (1987)
Doubles (1978)
Cinderella Liberty (1973)

Episodic TV guest appearances:

Ally McBeal (1997)



Mai-Lis Kuniholm (Lisa):

The only acting credits I was able to find for Ms. Kuniholm were for her appearance in this episode of QL, and another for Miami Vice in 1985.



Matthew John Graeser (Herky):

After his appearance in this episode of QL, the only other acting credit I could find for Mr. Graeser was an appearance in Diagnosis Murder in 1998.



Ethan Wilson (Sibby):

This episode of QL was the only acting credit I could find for this actor.



John L. Tuell (No Nose Pruitt):

Mr. Tuell is another guest star for which this episode of QL was the only acting credit that I could find.



Adam Affonso (Sam/mirror):

I think my needle is stuck, because, yet again, this episode of QL was the only acting credit I could find for this actor.



Guest Cast Notes:
Caroline Kava is an award winning short filmmaker; her file 'Polio Water' won the IFC Grand Prize; her film "Number One' won the (DGA Award).

---

Before getting into acting in the 70s, Niles Brewster was famous as the Ronald McDonald of the Northwest and Alaska, opening new restaurants and entertaining sick children in area hospitals.

---

David Newsom has been focusing his talents toward photography in the last few years. He and another photographer (Karen Izenberg) recently had an exhibit titled "Works" on display at the Detroit Street Gallery.



Guests who appeared in other Quantum Leap episodes:
Olivia Burnette (Katie) also appeared in the episode "Another Mother" (Susan).



Cast members who have passed away (as of the date the synopsis was written):
Niles Brewster (Dr. Berger) - July 3, 2002 of natural causes in Santa Monica, CA.



Personal Review:
I have always loved this episode. For one thing, it's about family. It's about realizing that when you've been given something special, especially if that special something is something you never ever expected to get the opportunity to experience again in your life, to be thankful for it.

I love 'The Leap Home, Part 1' because it's about learning. As Al told Sam, "Some things just aren't meant to be." It's about taking that special moment, putting it in your heart, and then embracing and accepting the wisdom you've just gained and finally, look that 'whatever wasn't meant to be' in the eye and say good-bye.

Perhaps, as Sam said, he was being rewarded for all of the good he'd done up to that point. But I also think he was being taught a painful but needed lesson about knowing when it's time to let go of what was, what can't ever be changed, hold onto the precious memories, and go on.

Lessons like the one Sam had to learn happen to all of us. And all of us, like Sam, will have in our lives, at one time or another, a similar moment when we will learn that it's time to tuck the memories safely in our hearts and go on with life.



Best Line:
Al to Sam: "I'd give anything to have what you do, Sam. Anything."



Best Scene:
The second 'best' scene is the one on the porch just after Katie has gone to her mother to her mother, crying, and John and Tom have also come running:

-----

Al: "Sam, tell them you made it up."

Sam: "I can't"

(Tom kneels before Katie, comforting and assuring her that he isn't going to die in Vietnam.)

Al: "Sam, you're not changing anything. Your father still dies in '72, Tom still gets killed in Vietnam, and Katie still marries Chuck. You're not changing their future, Sam. You're just making their present miserable."

Sam: "Okay! I made it up. I made it all up." (He's becoming emotional; his voice starts to falter) "I didn't wa...I didn't want Tom to go to Vietnam."

Thelma (gently): "Oh, Sam."

Sam (voice quivering, almost in tears): "I'm sorry." (He licks his lips then bites his lower lip) "I'm sorry!"

(Sam runs off the porch, across the yard and around the parked truck. Tom starts to go after him but is stopped by John).

John Beckett: "Let him go, Tom. He needs to be alone."


-----

...WHICH LEADS...into THE BEST scene (Sam and Al in the cornfield):


(Sam comes running up to Al in the field then stops, breathing hard.)


Al: "I know it hurts, Sam. But you did the right thing."

Sam (still getting his breath back): I always d...I always do the right thing, Al. And what does it get me? Why can I save str...strangers, and not the people I love?"

Al: "I don't know."

Sam: "Well, I'm not gonna do it anymore, Al.
(He rears back, looking up at the sky and yells)

"You hear that? Whoever you are...wherever you are? I'm not doing it anymore! I quit!"
(He sort of stumbles as he turns to Al)

"I quit."

(Sam tears off running through the corn rows again. Al looks after him, concerned, and
calls to him.)

Al: "Sam!"


(Scene shifts to other side of cornfield. Al's waiting for Sam as he comes tearing out of the corn rows, stumbles and falls to the ground; he gets up quickly, once more breathing hard from the exertion.)


Al (quietly): "Feel better?" (He lights a cigar and puffs it slowly.)

Sam (sharply): "No! No, I don't feel better. It's not fair, Al. I mean...come on. It's not fair."

Al (takes cigar out of his mouth, studies it a moment before saying): "Well, I think ....uh... I think it's damn fair."

Sam, incredulously: "What?!"

Al (looking up at Sam): "I'd give anything to see my father and my sister for a few days. Be able to talk with them again. Laugh with them. Tell them how much I love them." "I'd give anything to have what you have, Sam. (Al pauses significantly as he holds Sam's gaze): "Anything."

(Al's words and expression at last get through to Sam, realization finally dawning for him.)



Quotable Quotes:
Al to Sam (shooting baskets with Tom): "He's right, Sam. A good jump-hook can melt a woman's heart."

---

Al to the coach: "Paddycake? That's 'high 5s'! That's called 'high 5s'! And what are you yelling defense for? You should be put 'em into a press!" ...he pauses as something occurs to him... "I feel like Dennis Hopper in 'Hoosiers'."


Writer: Donald P. Bellisario

Director: Joe Napolitano

Director of Photography: Michael Watkins


Producers:
Supervising producer(s): Harker Wade and Robert Wolterstorff

Co-producer(s): Paul Brown and Jeff Gourso

Executive/co-executive producer(s): Deborah Pratt and Michael Zinberg

Producer: Chris Ruppenthal