"Deliver Us From Evil" Evil Leaper I
---
Leap Date:
March 19, 1966
---
Episode Adopted by: Rose E.
Additional info provided by: Carly Lappini and Brian Greene
Synopsis:
When Sam leaps back into Jimmy from a previous leap, things are not as they should be. The family is being torn apart and history has been re-written for the worst. The answer lies in what Sam discovers next...another time-traveler.
Visit the Al's Place Evil Leaper site!
Place
Leap Date
Project Date
Name of the Person Leaped Into
Project Trivia
Sam Trivia
Al Trivia
Al's Women
Al's Outfits Worn in the Episode
Miscellaneous Trivia
Writers
Director
Producers
Crew
Broadcast Date
Guest Stars
Guest Cast Notes
Guests who appeared in other Quantum Leap episodes
Personal Review
Best Lines
Best Scenes
Say What?
Quotable Quotes

Production # : 68109
TV Guide Synopsis and Commercial:
Sam returns to the life of a mentally handicapped young man and comes in contact with another time traveler. Connie: Laura Harrington. Alia: Renee Coleman. Frank: John DiAquino. Al: Dean Stockwell. Zoey: Carolyn Seymour.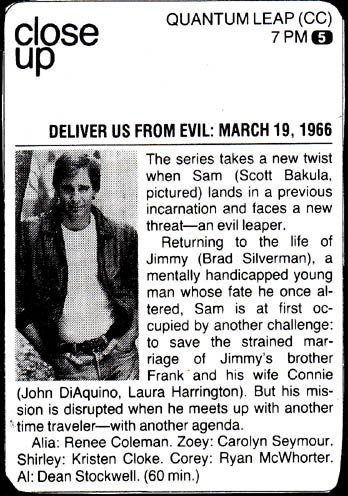 The Evil Leaper Commercials
Original NBC spots featuring a different actress as the evil leaper.

Place:
Oakland, California
Leap Dates:
March 19, 1966
March 19, 1966 (earlier that morning)

Name of the Person Leaped Into:
Jimmy LaMotta
Broadcast Date:
November 10, 1992 - Tuesday

Project Trivia:
Ziggy is freaked out by Sam leaping into the same person twice.
Dr. Beeks got a shock from Ziggy that sent her half way across the room.
Ziggy is shocked when she learns about Alia.
Al says that in over 80 leaps Sam never leapt into the same place more than once.
Ziggy talks to Dr. Beeks to relieve stress.
Evil Project Trivia:
Alia and Zoey are part of a time-travel experiment run by "Lothos" a similar unit to Ziggy, presumably. Lothos seems to be more advanced than Ziggy and can run scans on the room, as in looking for weapons. Lothos assigns Alia to change history seemingly opposite from Sam... to set wrong what once went right.

Sam Trivia:
Sam says that he hasn't eaten a TV dinner since he was 11, he remembers this. Sam said he always thought a TV dinner was food from the future.
Sam remembers Al telling him about, Al's sister, Trudy.
Al Trivia:
Al said his 4th wife tried to "mother" him all the time; she would cut his steak for him. That's why he won't eat meat.
Al's sister, Trudy, got pneumonia when they were in the orphanage and they put her in a mental hospital; he never saw her again.
Al appears in this episode 10 times and uses the chamber door 3 times.
Al's Women:
Al talks about his 4th wife cutting up food for him.
He seems to like Alia's looks saying "Oh, hello" when he sees her for the first time.
Zoey's Men:
A "hunk" in her building (she offered do his washing)
Sam is a "studly morsel."

Al's Outfits Worn in the Episode:
Al has a white/gray suit on with a lavender shirt, and a blue, gray, and white diagonal stripe tie.

The second outfit is a red suit jacket, black pants, and a white shirt with bolo tie.
Miscellaneous Trivia:
Frank says "Oh Boy" at the beginning instead of Sam.

Zoey is the female version of Al, an Observer for Alia.

Junk food was not a word in the 1960's.
An extended alternate ending scene exists with Al attempting to convince Sam to kill Alia. Watch below:
"Deliver Us From Evil" Alternate Ending:
The Evil Leapers Return in this Novel:
"Knights of the Morningstar"

Writers:
Robin Jill Bernheim
Tommy Thompson
Deborah Pratt
Director:
Bob Hulme
Producer:
Robin Jill Bernheim
Regular Cast:
Scott Bakula
Dean Stockwell
Guest Stars:
Carolyn Seymour as Zoey
John D'Aquino as Frank LaMotta
Renee Coleman as Alia
Laura Harrington as Connie
Kristen Cloke as Shirley Constantine
Ryan McWhorter as Corey LaMotta
Brad Silverman as Jimmy LaMotta (Mirror Image)
Renee Coleman as Alia: Born January 8, 1962. Coleman is known for her role in the 1992 box office hit, A League of Their Own (1992), as left-fielder and substitute catcher Alice Gaspers, and in Who's Harry Crumb? (1989), as kidnapping-victim Jennifer Downing. Coleman appeared in several more films through the mid-'90s, including Pentathlon (1994) (one of her last domestic roles), the Mexican film El jardín del Edén (1994), the Polish film Gracze (1995), and the Swiss film Waiting for Michelangelo (1995). In 1995, Coleman left the film business and returned to school, where she earned her Mythological Studies doctorate (with an emphasis on Depth Psychology) at Pacifica Graduate Institute in 2002. She currently lives with her husband and their four children in Santa Clarita, California, where she works in a private practice as a certified DreamTender. In August 2012, Coleman's first book, Icons of a Dreaming Heart - The Art and Practice of Dream-Centered Living, was published.

John D'Aquino as Frank LaMotta: Was the writer for "The Beast Within." Born on April 14, 1958 in Brooklyn, New York, USA. He is an actor and producer, known for Cory in the House (2007), 3rd Rock from the Sun (1996) and Xena: Warrior Princess (1995). Has portrayed a circus performer in both Matlock (1986) and Murder, She Wrote (1984). Of Italian descent, D'Aquino played the first Hispanic POTUS on Cory in the House (2007). One of four siblings (3 brothers and one sister), D'Aquino graduated from Coconut Creek High School in 1976, and went on to attend Florida State University, graduating in 1980 with a degree in theatre. He has trained in a number of places, including Florida, Los Angeles, and New York. 15 November 2000: At the 25th Carbonell Awards in South Florida, D'Aquino was nominated as Best Stage Actor for "Over the River and Through the Woods" (Caldwell Theatre Company).
Carolyn Seymour as Zoey: A highly accomplished actress of stage and screen, with a long and impressive list of credits on both sides of the Atlantic. Born in Buckinghamshire to an Estonian father with Russian descent and an Irish mother, Carolyn trained at the Central School of Speech and Drama, before rising to fame with starring roles in Peter Barnes' much acclaimed THE RULING CLASS starring Peter O'Toole and directed by Peter Medak, Terry Nation's cult sci-fi television series SURVIVORS and the BBC's TAKE THREE GIRLS. Multiple film credits include GUMSHOE opposite Albert Finney for director Stephen Frears, STEPTOE & SON, MR. MUM with Michael Keaton, and CONGO for director Frank Marshall. Carolyn's extensive theatre work includes THE GREAT EXHIBITION written by Sir David Hare, for which Carolyn starred opposite David Warner and Penelope Wilton at The Hampstead Theatre. The production was directed by Sir Richard Eyre. Carolyn received critical praise for a role as Ophelia in HAMLET at The Gielgud (formerly The Globe Theatre), directed by Peter Coe and produced by Sam Wanamaker. ON APPROVAL saw Carolyn starring opposite Kenneth More and Moray Watson at The Vaudeville Theatre. In THE PRODIGAL DAUGHTER Carolyn co-starred with Wilfred Hyde-White for the production at the Theatre Royal Brighton followed by a national tour, both directed by Roger Redfarn. HAY FEVER marked Carolyn's debut on Broadway playing Myra Arundel for director Brian Murray. SCHOOL FOR SCANDAL directed by Brian Bedford would follow at The Taper in Los Angeles. Carolyn made the effortless transition to American television during the 1980s, with celebrated performances in a multitude of hit, award-winning series including FAMILY TIES, HART TO HART, CAGNEY & LACEY, MAGNUM P.I., MURDER SHE WROTE, QUANTUM LEAP, L.A LAW and ER. Recurring guest appearances on the Emmy award-winning STAR TREK: The Next Generation and STAR TREK Voyager, like that of her work on SURVIVORS, have also drawn a strong and devoted fan-base. Carolyn is also a regular voice artist, recording audio adaptations of stage plays by Sir Alan Ayckbourn (TABLE MANNERS and LIVING TOGETHER), as well as TOP GIRLS by celebrated playwright Caryl Churchill. For Big Finish Productions, and by the demand of her loyal fans, Carolyn returned to her iconic role of Abby Grant in SURVIVORS, as well as guest-starring alongside the surviving DOCTOR WHO's. Over 5 decades in the industry, Carolyn has continued to adapt to the demands of the business including successfully transitioning into the world of video games, with multiple projects for the STAR WARS franchise amongst many others. Having resided in the United States and France for many years, Carolyn returns to her native England in Summer 2021 with plans to return to her roots - British stage and screen. Carolyn divides her personal time between her family, her love of art, and her passion for charitable work including animal activism and supporting the homeless.
Laura Harrington as Connie: Born on April 29, 1958 in Ann Arbor, Michigan, USA. She is an actress and writer, known for Maximum Overdrive (1986), The Adventures of Buckaroo Banzai Across the 8th Dimension (1984) and Paulie (1998).
Kristen Cloke as Shirley Constantine: Born September 2 in Van Nuys, California. She attended California State University, Northridge. Her first feature film role was the female lead in Megaville (1990), opposite Billy Zane. She is best known from her role as Shane Vansen in the television series Space: Above and Beyond (1995) and most recently the Academy Award nominated "Lady Bird". In addition to acting, she is a writer best known for "The X-Files" episode "Rm9sbG93ZXJz", as well as several episodes of BBC's "Intruders".
Ryan McWhorter as Corey LaMotta: Known for Teenage Mutant Ninja Turtles (1990), Arachnophobia (1990) and Pet Sematary (1989).
Brad Silverman as Jimmy LaMotta (Mirror Image): Born on May 16, 1966 in Glendale, California, USA. He is an actor, known for I Am Sam (2001), Quantum Leap (1989) and Curb Your Enthusiasm (2000). He and John D'Aquino have remained friends after their Quantum Leap days!

Guests who appeared in other Quantum Leap Episodes:
Renee Coleman played Alia in "Return of the Evil Leaper" and "Revenge of the Evil Leaper."
Carolyn Seymour appeared as Zoe in "Return of the Evil Leaper" and "Revenge of the Evil Leaper" and appeared as Priscilla Stoltz in "A Portrait for Troian."
John D'Aquino played Frank LaMotta in "Jimmy" and Tonchi in "Mirror Image."
Laura Harrington played Connie LaMotta in "Jimmy."
Ryan McWhorter played Corey LaMotta in "Jimmy."
Brad Silverman played Jimmy in "Jimmy," Pete in "Mirror Image," and Jimmy in "Shock Theater."


Personal Review:
It is nice to get to see how someone has changed after Sam has leapt into that person. Two years have gone by since Sam leapt into Jimmy and you see how much of a change Sam has made. Alia is an interesting character and someone you want to see Sam battle again.
Best Line:
"Excuse me, excuse me for a second. Are you, are you taking to a hologram? You're talking to a hologram, aren't you! You are a time traveler, too."
Best Scene:
The best scene is when Sam touches Alia and they see each other for who they really are for the first time. Then they introduce each other to their hologram friends, Al and Zoey.
Say What?
The face of the stuntman who is driving the forklift can be seen.
Shirley wipes chocolate off of Frank's face, but there doesn't seem to really be any.
Frank's license plate is different than the one he had in "Jimmy" but it's the same truck.

The blood on Frank's shirt comes and goes, as well as the blood on Alia's face.
Sam seems to Leap back just before the events of his initial Leap-in. But Connie and Frank were already having marital problems before that. How long had Alia been there? He couldn't have fixed everything in their lives.

"If you weren't here, who would I steal mashed potatoes from?"
"I leap back to people that I know and everything should be great, right? But everything's wrong."
"I'm really strong."
"I think Ziggy has finally lost it."
"I'm worried because I can't figure out what the hell is going on."
"I'm also worried because I've never really care about anyone you leapt into like I care about Jimmy."
"It's my job to be worried."
Alia: "Who are you?" Sam: "Who are you?"
"We're not sure. Sam and I touched and then suddenly he…"
"It's almost like your memory was swiss cheesed."
"Do you always think of other people first?"
"Sam, I'm not Connie and you're not Jimmy."
"If he touches you again, I'll kill him."
"This could be the one that gets you home."
"You bet your sweet ass I am, sweetheart."
"Because she's evil."
"Sam she's your counterpart. You're good and she's evil, that's what she does."
"You can't kill me, you'd be killing yourself, Alia. I mean think about it, I only exist because you do and you because of me. If I die, it only makes since, that you would too.
"You're not evil, Alia. Whatever trapped you in time is."
"Somehow we, we've lost two days."
Sam: "What are you telling me; none of this ever happened?" Al: "No I'm not, Ziggy is telling the both of us."
"She's not gone, Al. Alia is not gone."